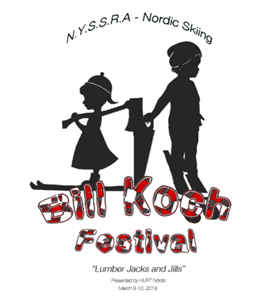 The Hudson United Racing Team is hosting the Mid-Atlantic Bill Koch Festival on March 9-10th, 2019. The festival will start around noon Saturday and run through the evening and then also run 9am-1pm on Sunday. We are excited to share the new trail system at the Brookhaven Golf course with you. The Brookhaven Club House open and accessible all weekend and your payment covers a T-shirt, awards, and the dinner Saturday night.
It will be a great weekend to play, race, do obstacle courses, hang out and do a bonfire and community ski.
Saturday:
Noon : Sign-in and meet and greet
1-2:30: Scavenger hunt/explore the Brookhaven trails
2:30-3: Break
3-4:30: Races – 2K – 5K individual freestyle race. based on age groups.
4:30-5: Break, change, get ready for dinner
5pm: Dinner
6:30ish: Join bonfire party
Sunday:
9am: Games/Obstacle Course
10-12: Races – 3 x 2K Relay – Classic Technique
12-1: Awards/wrap up
1pm: Guests head home